North DFW Real Producer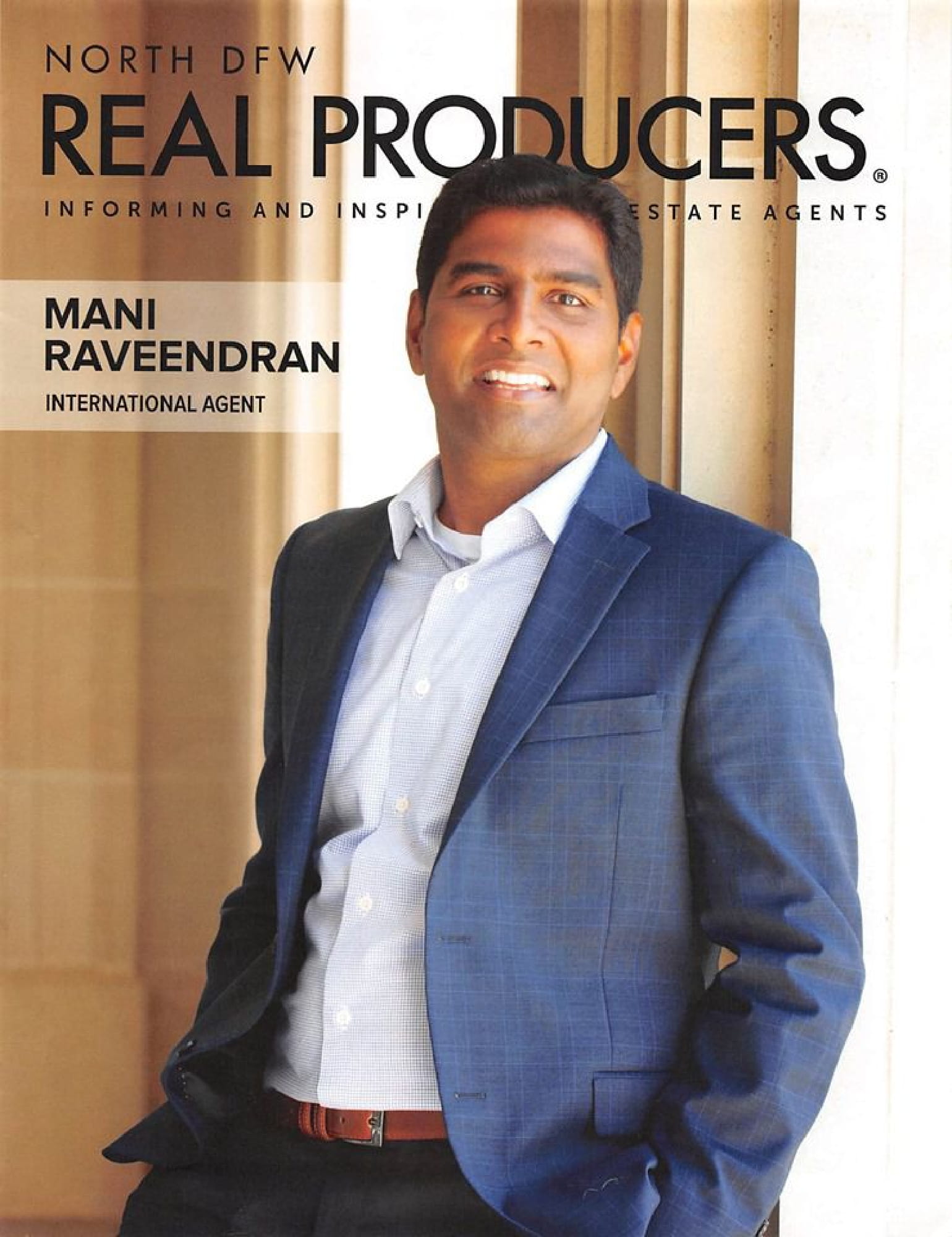 Mani Raveendran, and his team, help their clients win. But the efforts they put forth each day go beyond Dallas.
In fact, as the founding member of the Dallas & Beyond Real Estate Group with Keller Williams International, Mani is leading an effort that helps people win worldwide.
Setting the Stage for Global Success
Growing up in Chennai, India, Mani may have been destined for the real estate success he has earned. That's because his family was deeply involved with real estate.
In 1998, Mani came to the U.S. to pursue and earn his master's degree while attending school in Dallas. That was 20 years ago, and he has been here ever since.
Mani's path to excellence started in another career field.
"I have a strong background in marketing, finance, and technology. For about 15 years prior to entering real estate, I worked as a consultant for a large firm, specializing mostly in larger technology and healthcare companies."
Mani's experience in the consulting world taught him all aspects of business.
"My consulting background gave me good experience in understanding processes, people, and the technology aspects of various differences," he recalls. "I think that has given me a good segue to apply that background in marketing, finance, consulting, and relationship aspects and put that into what I'm doing now in real estate."
Investing in the Future
In 2008, Mani began getting involved in real estate investing. As time passed, real estate made sense as a next step in his growing career.
In the past 11 years in the industry, Mani's career has grown — along with being able to help his clients expand on a global scale.
"I came into this business wanting to do something different with my background in marketing and technology. But that was just the beginning," Mani remembers. "I also wanted to be different in the type of service I offer to my clients … to manage their expectations and their way of dealing with situations in the real estate process. What I mean by that is, in real estate, it's about psychology, finance, and marketing. So those are the elements I really tried to focus on."
Diverse Benefits
Mani has found a perfect fit living and working in Dallas.
"With my background coming into the country as an immigrant, it has given me an appreciation for what it takes to run a team that's diverse … and that enables diversity and inclusion. And I think that really coincides with what Dallas has become over recent years. The city is a very multicultural place."
Today, Dallas & Beyond Real Estate is a powerful blend of teamwork and talent.
"We have a great ten-member team, including five full-time agents, and five back office team members. Our agents are also diverse. To serve client interests in Asia, the Middle East, Europe, and South America, we have full-time client care people across the globe, ranging from the Asian-Pacific region to South America," Mani points out. "All of us are serving our client base here in Dallas, yet we have the strengths of being dispersed across the globe."
When he's not working, Mani enjoys giving back — especially with local efforts that involve education. In fact, in 2018, Mani was named as an Immigrant Journey Award finalist. He was one of 22 immigrants in North Texas who were honored for their leadership in business, profession, advocacy, and community service—and for their many contributions to North Texas and the United States.
You're also likely to find him training for, or competing in, triathlons — an active pursuit he has enjoyed for the past few years.
Making a Difference Globally
Mani specializes in creating success by building relationships around the world.
"Most of our business is done locally, but part of my job is to travel to bring in investors," Mani emphasizes. "So, I travel to different countries to talk with investors there about possibilities that exist here and to build equity in the international space."
Mani and his team offer their international clients several targeted advantages.
"We assist people moving to the U.S. with the sale of their former homes and the purchase of their new ones here," he explains. "We also work with businesses and support their expansion into new global markets. And on the buyer side, we enjoy being that resource for those who are looking to invest in overseas properties."
In the process, Dallas & Beyond Real Estate coordinates a number of behind-the-scenes activities to help their clients win on the world stage.
As Mani explains, "To be effective with this level of international business, we also partner with organizations that help our clients with various aspects of financing, taxes, marketing data and strategies, investment trends, currency and exchange rates, regional markets, and cross-cultural relationships."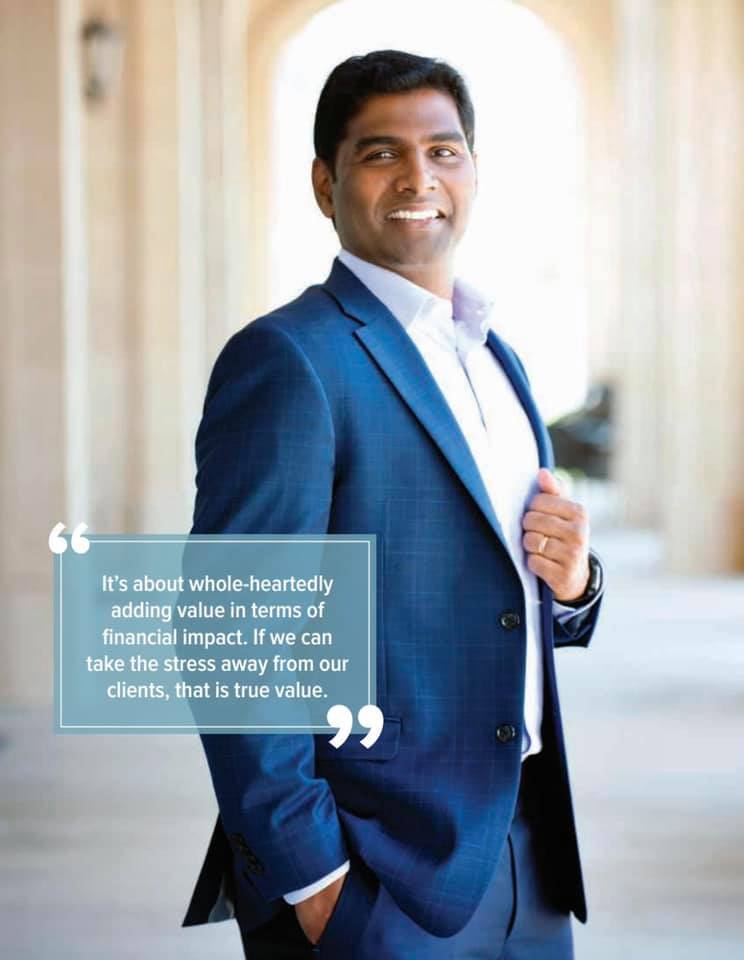 Achieving customer satisfaction is key. But Mani explains his team reaches that goal through a deep From Left to Right: Alpana Dubey, Junaid Ahmed, Eva Hines, Mani Raveendran, Jumana Allen, Elizabeth Hang It's about whole-heartedly adding value in terms of financial impact. If we can take the stress away from our clients, that is true value. 54 • August 2019 sense of open advice and consultative honesty.
"When it comes to working with our clients on the listing side of the equation, we serve clients by identifying their goals and needs, and educating them on the market and type of potential buyers, including what they should and should not do," Mani says. "We see ourselves as being more of a counselor than trying to please our clients all the time. Because I think when you focus too much on trying to please them, emotion can get involved."
Making an Impact
This deep sense of service makes a distinct, bottom-line difference.
"It's really about keeping our clients' interests first and be accountable for each and every dollar," Mani says. "It's really who we are as we keep our promise to our clients to work with integrity. It's what we stand by."
Dallas & Beyond Real Estate has definitely achieved lofty goals in the process of serving its growing client base.
In fact, the firm averages eight sold homes each month, has more than 150 five-star client reviews, and consistently ranks among the top one percent of all Keller Williams Realty firms.
"I think the real success in real estate happens when one of my clients calls me and puts his trust in me when it comes to helping him and his family," Mani points out. "It's about whole-heartedly adding value in terms of financial impact. If we can take the stress away from our clients, that is true value. The financial value we bring might be that we negotiated a certain amount they could not have done by themselves. Or it could mean that we sold a house that may have taken another 30 to 45 days to sell—a longer timeframe that may have prevented them from doing other things they had planned for."
As Mani reflects on what it takes to win worldwide on behalf of his clients, he does it by taking a truly global view. "I encourage others to look at the long haul and not to focus on short-term success. Everything you do should be about being client-centric, rather than short-term goals."
Contact : Mani Raveendran / 469-451-6330 / www.dallasandbeyond.com