Summary

The Texas economy grew moderately in May. Total employment expanded 1.5 percent year-over-year but with a monthly gain of just 200 jobs. Job losses again came from the manufacturing and oil and gas extraction sectors, especially in Houston. Housing demand improved moderately while new construction was constrained by a shortage of skilled labor and developed lots. Houston improved in terms of number of total home sales. Austin and San Antonio continued to show strong housing demand, while Dallas-Fort Worth has slowed somewhat in recent months.

Supply

The Texas Residential Construction Leading Index (RCLI), which signals future directional changes in the residential construction business cycle of single- and multi-family housing, continued to decline. The RCLI was negatively affected by monthly decreases in weighted building permits and in housing starts. The Texas Residential Business Cycle (Coincident) Index, the measure of current construction activity, remained flat as it has been the past several months. Both indicators are signaling a slowdown in current and future residential construction in the State of Texas. Housing starts declined 5.0 percent seasonally adjusted year-over-year in May, but the downward trend of the past few months appears to be easing.

Single-family housing construction permits statewide increased 2.6 percent seasonally adjusted despite lagging growth in Houston and San Antonio. Austin continued to register an upward trend in permitting after declining in 2015. Dallas-Fort Worth building permits slowed after rapid growth in prior months. No major MSA has reached its prior peak of permitting levels. During May, Houston and Dallas-Fort Worth continued to lead the nation in the number of single-family permits issued followed by Atlanta, Phoenix, Orlando, and Austin.

Months of inventory for existing homes across Texas remained low at 3.6 months. The months inventory has remained fairly stable since May 2015. The nation reported 5.6 months of inventory (around 6.5 months of inventory is considered balanced).

Demand

In May, total Texas housing sales increased 5.3 percent year-over-year seasonally adjusted (positive 6.4 percent on a nonseasonally adjusted basis) compared to 3.5 percent in the nation (positive 6.3 percent on a nonseasonally adjusted basis). Austin, Dallas-Fort Worth, and San Antonio posted solid year-over-year home sales increases, although Dallas-Fort Worth continued to weaken month-over-month since reaching a peak in January 2016. In May, Houston posted a 1.1 percent year-over-year seasonally adjusted rate (positive 8.2 percent not seasonally adjusted) after a long period of weakening due to the impact of the energy sector decline. Texas year-over-year sales growth exceeded the U.S. for the ninth straight month.

Mortgage interest rates remained below 4 percent. In May, the Federal Home Loan Mortgage Corporation reported a 3.60 percent average rate on a 30-year fixed-rate mortgage, while the 10-year U.S. Treasury bond yield equaled 1.81 percent. Expectations are for further declines in the mortgage and Treasury rates.

The number of days an existing home was on the market in May remained low relative to prior periods reflecting the tight supply. During the same month, new homes registered longer sales periods than existing homes. Austin and Houston new home sales had longer sales times compared to Dallas-Fort Worth and San Antonio. The average statewide difference to sell a new home versus an existing home was 37 days.

Prices

Average and median sales prices have risen dramatically in Texas since 2011 and continued to climb in May. The constrained supply in conjunction with strong demand accelerated price gains. Austin was the house price appreciation leader through May 2016 with prices remaining well above the other major metros. Nonenergy employment growth and a strong services sector caused Dallas-Fort Worth to also register strong price appreciation. Due to recent declines in the energy sector and the resulting economic slowdown, Houston has begun to exhibit some softening in the rate of price growth. San Antonio price increases have also softened somewhat.

Texas' existing and new home sales prices have steadily climbed in the major metros, although new home prices demonstrated some downward pressure in recent months. The difference from the initial listing price to the actual sales price for new homes has steadily widened in Texas since early 2014. In contrast, for existing homes, the price difference after increasing in previous months has flattened out, coinciding with the difference in new home sales. This probably reflects a change in market conditions for sellers of new homes.

Median new home prices have exceeded existing home prices by 48 percent and by 37 percent based on average sales prices since 2011. This price differential results primarily because of increases in home size for newer homes and the significant increases in construction and land costs for new homes. The average price per square foot for a new Texas home is approximately 19 percent more than for an existing home.

With rapid price appreciation, Texas affordability continues to fall relative to the U.S., especially in the major MSAs. The ratio between the median price and the median household income for the U.S. was 3.9 in comparison to Texas' 3.4 in 2014. The rate of increase in personal and household income greatly lags the increase in home prices, creating future affordability issues. The ratio for both the U.S. and Texas was 3.4 and 3.0 respectively in 2012.

Note: Recent changes in the Real Estate Center's data reporting have included shifting from reporting on Multiple Listing Service (MLS) areas to a Metropolitan Statistical Area (MSA). In this report, the respective charts reflecting these changes include Construction Value, Months of Inventory, Housing Sales, and Median Housing Prices.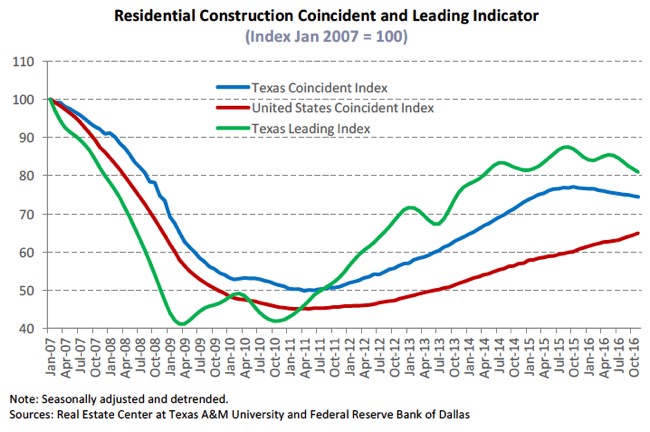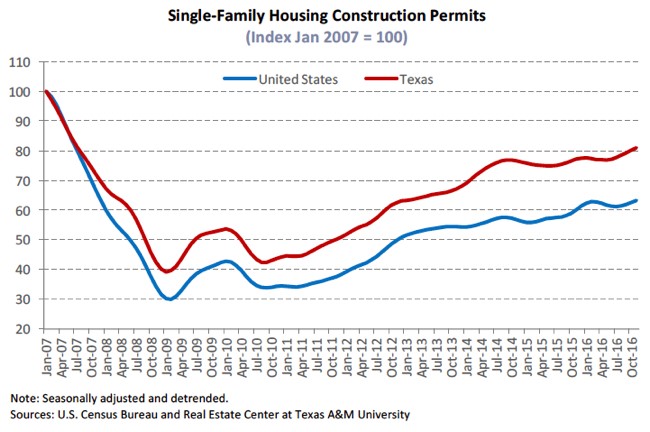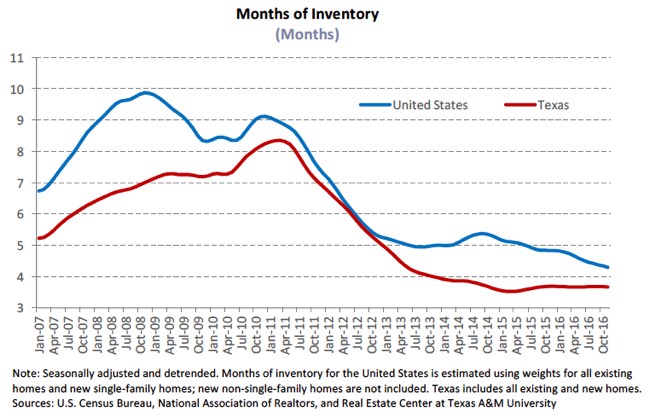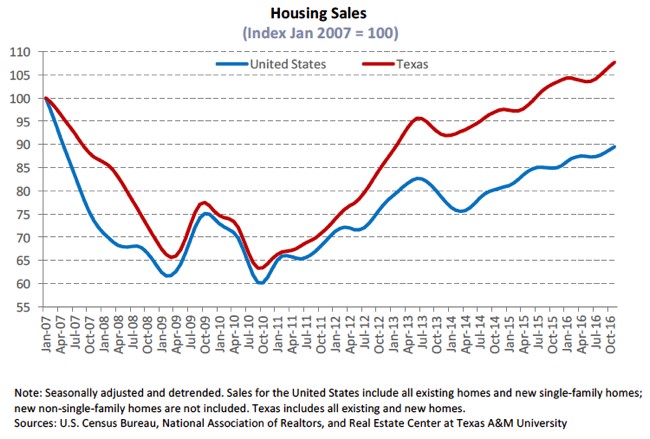 Reference: https://www.recenter.tamu.edu/education/conferences-and-courses/