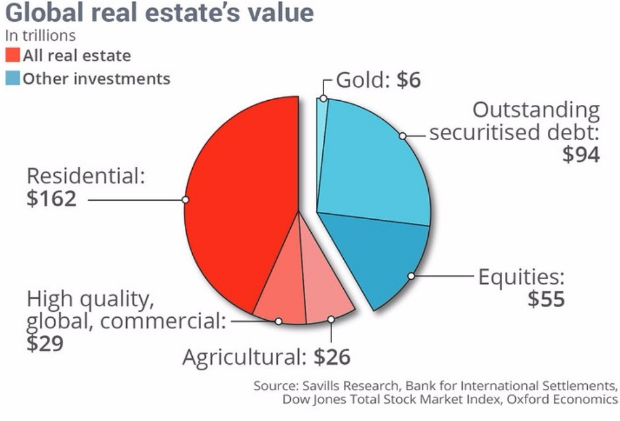 The total value of all developed real estate on the planet reached a whopping $217 trillion in 2015, according to a new report released on Monday by U.K.-based real estate adviser Savills.

For some perspective, that amounts to 2.7 times the world's GDP and about 60% of all mainstream assets, the analysis shows. Furthermore, Yolanda Barnes, who leads Savills research team, said the total value eclipses all the gold ever mined ($6 trillion) by a factor of 36 to 1.

"The value of global real estate exceeds – by almost a third – the total value of all globally traded equities and securitised debt instruments put together and this highlights the important role that real estate plays in economies world-wide," she said. "Real estate is the pre-eminent asset class which will be most impacted by global monetary conditions and investment activity and which, in turn, has the power to most impact national and international economies."

The study pointed to quantitative easing and the resulting low interest rates for fueling a spike in real-estate prices. Residential real estate has been the biggest beneficiary with a value of $162 trillion.

China accounts for almost a quarter of the total value. Makes sense, considering the country contains about a fifth of the world's population. The U.S., on the other hand, has only 5% of the population, but makes up 21% of global residential asset value.

On the commercial front, it's even more pronounced. North America is home to almost half of the world's commercial value, the study finds, while Europe makes up more than a quarter. South America, the Middle East and Africa combine for just 5%.

The study didn't include the value of "informal neighborhood commercial properties," like smaller shops and local workspaces. Savills explained that while they offer "huge potential for future investment as economies mature and real-estate markets develop within them," they are almost impossible to value at a global level.