Playa Del Carmen Highlights
Posted by Mani Raveendran on Thursday, July 8, 2021 at 5:41 PM
By Mani Raveendran / July 8, 2021
Comment
General real estate market trends in the United States have been very strong, and the outlook for the future continues to look positive. That forecast plus the strong U.S. dollar, have led some of my investors to ask me about low hanging fruit in the international investment, real estate market.
On a trip to Playa del Carmen late last year, I reviewed real estate trends in that area of Mexico. I looked at current price points and future growth prospects for the luxury market. Specifically, the trip was focused on catering to investments in the mid-range of investment property up to US $500,000. Here are my findings:
The economic downturn of 2008-2012 impacted Playa del Carmen and the surrounding area. Improvements to infrastructure were slowed and tourism declined. However, international tourism has again increased and upgrades to infrastructure have now been made.
A result of the downturn was a tightening of rules on credit and the quantity of available capital. The positive result has been the creation of funding alternatives leading to increased investment in real estate.
In addition to tourism, the population of the Playa del Carmen area is increasing. Malls, golf courses and entertainment venues have been built and roads improved.
The Mexican economy as a whole is slowly expanding. After growing by 2.3% in 2015, real GDP is projected to grow in excess of 3% in both 2016 and 2017. Consumer confidence has improved bringing more commercial development to the area and an influx of both Mexican and international buyers.
Mexico's retail industry has experienced positive growth and a large number of international firms are planning to invest and expand throughout the country's real estate markets.
Shown below is a chart that summarizes various country scores based on lifestyle components: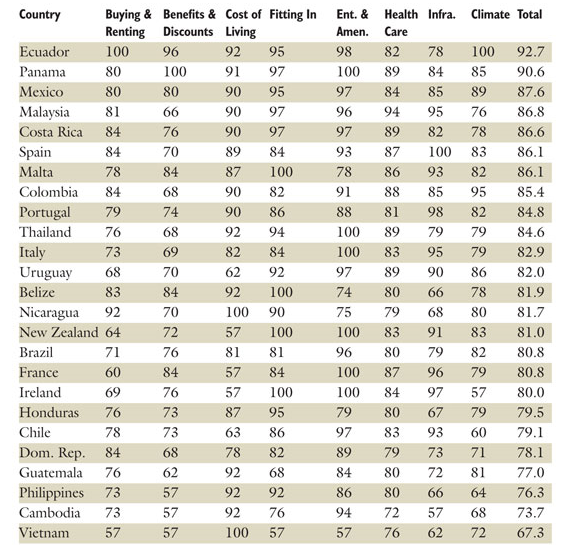 International tourism in Mexico has been growing over the past decade and is projected to continue its aggressive rate of growth for the next 10 years or more. Playa del Carmen's rapid growth is spurring high demands for housing and is driving prices higher and higher. Many new condominium developments are being sold out even before construction.
Tourists and their spending power are the big driver of the market. Two and 3 bedroom units currently under construction, measuring an average 1150 – 1400 square feet, range from US $155,000 to US $475,000. Penthouse units sell for more. Beach area rentals range from $175 per night to $350 for a two-bedroom unit.
In summary, the real estate market continues to improve in Playa del Carmen, and now is good time to considering an investment opportunity.
If you have any question on real estate investments in upcoming overseas markets or in the strength of the Dallas real estate market, please don't hesitate to call or email me at [email protected] and 469-451-6330.